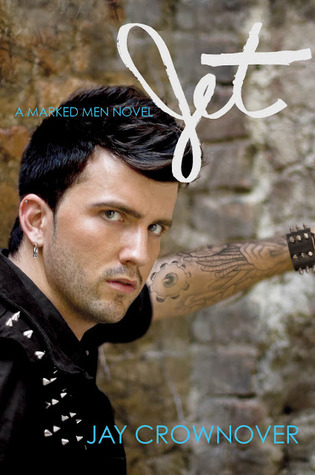 Jet by Jay crownover
Published: May 28th, 2013
Publisher: William Morrow Paperbacks
Series: Marked Men #2
Format: kindle
Pages: 416
Main Caracters: Jet & Ayden
Synopsis from goodreads:
With his tight leather pants and a sharp edge that makes him dangerous, Jet Keller is every girl's rock and roll fantasy. But Ayden Cross is done walking on the wild side with bad boys. She doesn't want to give in to the heat she sees in Jet's dark, haunted eyes. She's afraid of getting burned from the sparks of their spontaneous combustion, even as his touch sets her on fire.
Jet can't resist the Southern Belle with mile-long legs in cowboy boots who defies his every expectation. Yet the closer he feels to Ayden, the less he seems to know her. While he's tempted to get under her skin and undo her in every way, he knows firsthand what happens to two people with very different ideas about relationships.
Will the blaze burn into an enduring love. . .
or will it consume their dreams and turn them to ashes?
4.5 of 5 stars
Let me start with how much I appreciate Jay Crownover's work. She is an amazing author and I love the way she writes and makes you want to keep reading her books. The characters are amazing, the setting is amazing and everything about it is amazing. And you're asking yourself... Then why a 4 star review? Well let's get deeper in this story...
We were introduced to Jet and Ayden in RULE (which I also enjoyed, a lot) the first book in the Marked Men Series. This is a series that, for now, it's going to be a six book series (So exciting!!!). I thought I wouldn't like Jet because he was going to be the crazy rocker friend who had a different girl every night. Which is partly true. But, then you read this book and you just can't help fall in love with him. he was so sweet and he sang to Ayden every night and they were a mess together, but they were perfect together.
The only reason I gave this book 4.5 stars was because of Ayden.
Ayden, Ayden,Ayden. She just pissed me off! I'm not going to say anything more about the matter because I don't want to give spoilers but yes, she pissed me off. This would've been a 5 star review if it wasn't for her.
Anyway, I totally recommend it and the first book too!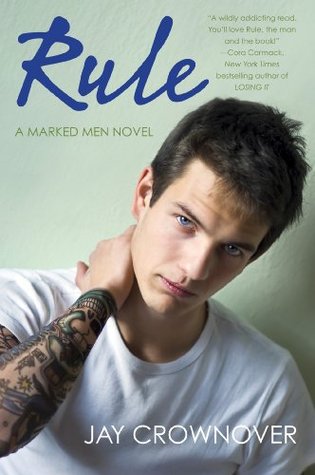 About the author:
I'm supposed to share interesting details about myself so that my readers get to know me so here we go in no particular order: I'm an natural redhead even though I haven't seen my real hair color in years, I'm a big fan of tattoos and have a half sleeve on either arm and various other pieces all over the place, I've been in the bar industry since I was in college and it has always offered interesting insight into how men and women interact with each other, I have 3 dogs that are all crazy, I live in Colorado and love the snow, I love music and in all reality wish I could be a rock star not a writer or a bartender but I have zero talent so there is that.
I love to write, love to read and all I'm interested in is a good story with interesting characters that make the reader feel something.