Sorry that I haven't been posting. It's just, school started and I have been swarmed with so much homework and exams. I actually made this review some time ago, when I finished reading it but I haven't had time to edit it, So here it is!
So. Today I'm bringing to you my thought and feelings about the LAST book in the Lux series. Because it's the Last book I'm going to divide this review in Non-spoilery part (for those who haven't read it and just want to know if it's worth your time) and Spoilery part (for those who have read it and want to know if we have the same thoughts) because, you know, I really need to get all my feelings in to this review. Ok, so let's begin!
Here is the link to my review of Origin (Lux series #4):
Origin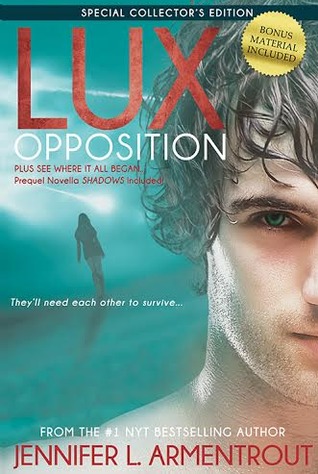 Opposition by Jennifer L. Armentrout
Published: August 5. 2014
Publisher: Entagled Teen
Series: The Lux Series #5
Format: Paperback
Pages: 533
Main Characters: Katy and Deamon
Synopsis from Goodreads:
Katy knows the world changed the night the Luxen came.
She can't believe Daemon welcomed his race or stood by as his kind threatened to obliterate every last human and hybrid on Earth. But the lines between good and bad have blurred, and love has become an emotion that could destroy her—could destroy them all.
Daemon will do anything to save those he loves, even if it means betrayal.
They must team with an unlikely enemy if there is any chance of surviving the invasion. But when it quickly becomes impossible to tell friend from foe, and the world is crumbling around them, they may lose everything— even what they cherish most—to ensure the survival of their friends…and mankind.
War has come to Earth. And no matter the outcome, the future will never be the same for those left standing.
Let's talk about the cover. I really didn't like what they did with Obsidian and Onyx being Lux beginnings and Opal and Origin being Lux consequences. Then the covers... Oh my god they took out Daemon and Kat, as I pictured them, and put half a girl's face! what is that! I was super disappointed with them. Opposition wasn't THAT bad because it had Daemon. But still, I think they could've done amazing things with the last book... Now enough about the ranting.
I enjoyed it. But it's not my favorite one from the series. It obviously had that Kat and Daemon chemistry that we love. It had battles ( which I love). But I thought it was going to be longer, I wanted a BIG book with a Big finale. Besides that I seriously recommend the book and series. all the books are easy to read. And to those who haven't read it, Well you need to get on it! First book is called Obsidian if you want to search it.
Spoilery review
So I've already talked about how I didn't really like the change of covers and that I enjoyed the book. Now let's get deeper...
First things first...
Other than being a little to short for a final book in a series I enjoyed it.

When Kat saw Daemon for the first time, and he was denying that he had feelings for her, my hart literarily broke. I was so mad with Daemon! But then, we all knew he couldn't betray her like that.
When I read the scene where Sadi told Kat she was actually an Origin and she knew what was her plans and Daemon's I was soo mind blown. I wasn't expecting her to be an Origin. And then Katy made the car they were in flip? that was glorious!
I loved it when Hunter and Serena appeared, because I really liked them in Obsession. The part were they met Lotho (the leader of the Arum) I found it so creepy. For a moment I thought they wouldn't convince him to fight against the Luxen. But as we know the Arum killed a lot of Luxens.
Dee... Dee, Dee, Dee. I was so mad! I knew she couldn't help it because Daemon had Kat and Dawson had Bethy. But Dee had no one. When she was fighting Daemon, and wanted to kill him, I wanted to knock some sense in to her. I mean, she threw Katy through a wall! and there was a Katy-size hole in the wall. But then katy started telling her about Adam and that she loved her like a sister. That did the trick!
Now I really did enjoy the epilogue. Kat and Daemon enrolled in college. Dee had Archer. Dawson had Beth and baby Ashley. The only thing that made me sad was Luc. Sure he now had all of them as a family but I wanted to see Luc with Nadia! Why did she have to die. I would have liked a side story about Luc. It would've been awesome a love story with Nadia but, oh well...
About the author:
# 1 New York Times and International Bestselling author Jennifer lives in Martinsburg, West Virginia. All the rumors you've heard about her state aren't true. When she's not hard at work writing. she spends her time reading, watching really bad zombie movies, pretending to write, and hanging out with her husband and her Jack Russell Loki.
Her dreams of becoming an author started in algebra class, where she spent most of her time writing short stories….which explains her dismal grades in math. Jennifer writes young adult paranormal, science fiction, fantasy, and contemporary romance. She is published with Spencer Hill Press, Entangled Teen and Brazen, Disney/Hyperion and Harlequin Teen. Her book Obsidian has been optioned for a major motion picture and her Covenant Series has been optioned for TV. Her young adult romantic suspense novel DON'T LOOK BACK was a 2014 nominated Best in Young Adult Fiction by YALSA.
She also writes Adult and New Adult contemporary and paranormal romance under the name J. Lynn. She is published by Entangled Brazen and HarperCollins.